iZOMBIE ending.
Aw man. One of my favorite comics, Chris Roberson & Mike Allred's iZombie is coming to an end this August with #28.
iZombie Volume Three & Writerly Updates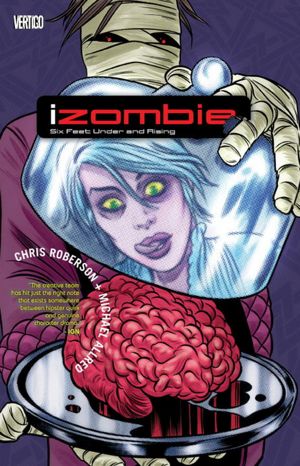 iZombie is the rare comic that makes me abandon my Writer Logic. You know what I mean - it's that annoying voice in the back of your head that puts plot threads together and makes assumptions while you're watching movies; it's the voice that goes "oh, I see what they did there" at key points; it's the un-cut-outable part of you that is painfully aware of the process. It is you, writers.
Well, here's the thing. I just finished the third volume of Chris Roberson and Mike Allred's iZombie, and I'm pissed off. Why? Because I love the damn thing so much and it's going to be a long time before that fourth volume is out, and an even longer time for the fifth volume to hit shelves. Why? Well, illogically, it's that lazy writer! That lazy artist! Bah, they're probably on Facebook or drunk Tweeting movies when they should be churning out weekly - no, daily! - issues of this series I love so much, abandoning their lovers, sleep, and sanity for my enjoyment.
See the above rant? Complete lack of Writer Logic. That's what iZombie does to me. It strips me of all the things I know about the process and replaces me with this ranting, foamy-mouthed creature of pure need.
I think I have to start following this book monthly. And I know just what book I'm going to drop in order to do so. Sorry, superhero comics. iZombie has my heart and my br- er, stopping myself right there. I almost abandoned my Writer Logic again and resorted to one of those cheesy puns that reviewers love doing so much.
On a decidedly Writerly note, I've got some reaaaaally interesting stuff happening behind the scenes. A company I've worked with a lot has expressed interest in hiring me for more of their properties, and they're currently considering one of my creator owned books. Yay!
As for now, I've got two books coming out next month.
- Grimm Fairy Tales: April Fools Edition #3
Every year, Zenescope celebrates the silliest day on the calendar by reprinting some of their old stories with funny dialogue. I scripted this year's issue with Ralph Tedesco, and I even got some of my buddies in on the fun. It includes a pin-up from my Blood Pong co-creator Ian McGinty and a fake ad for 52 new Zenescope books from my Thomasina's Human Zoo co-creator Sarah 'Pickles' Dill.

- Grimm Fairy Tales: Different Seasons Vol. 2
This TPB reprints a bunch of fun stories, including my giant size holiday issue from December 2011.
More announcements coming soon! As for now, I'm off to do some editing on a feature film I shot… wow, a year and a half ago at this point. Time flies.