The Shape of Things to Come
Two days ago, Zenescope Entertainment announced Unleashed. It's a massive event comic book, comprised of the main Unleashed series and five tie-in books. I'm going to use this entry to answer questions fans have been having, add some new information to the pot, and clear things up.
UNLEASHED #0 cover by Anthony Spay
1. The Basics
Unleashed is about a creature that we have been referring to as "the Being." This is not his his name - he is too old to have one. For reasons that haven't been revealed, the Being opens a rift into a dimension that has been used as a prison for monsters for centuries. Vampires, werewolves, zombies, demons, and more are unleashed on the Grimm Universe, and our heroes are facing the biggest crisis they've ever been up against.
2. FIVE TIE-IN BOOKS!?
My immediate answer to this is don't worry. The entire Unleashed story takes place in UNLEASHED #0-6. The tie-in miniseries also stand alone, telling complete stories that focus on the new characters we introduce in Unleashed. I'm writing the main Unleashed arc, and all of the minis were plotted by me and Raven Gregory. Here is some more info on those series.
UNLEASHED #0-6
Written by Pat Shand
VAMPIRES: THE ETERNAL #1-3
Written by Pat Shand
 
WEREWOLVES: THE HUNGER #1-3
Written by Mark L. Miller (Jungle Book, Grimm Fairy Tales)
HUNTERS: THE SHADOWLANDS #1-5
Written by Raven Gregory
DEMONS: THE UNSEEN #1-3
Written by Pat Shand
ZOMBIES: THE CURSED #1-3
Written by Troy Brownfield
Here's the release schedule:
3. QUESTIONS
Q: Will your vampires be monstrous or romantic?
A: This question actually has been asked a LOT in the last two days. The answer is… read the first few pages of Vampires: The Eternal #1. There is a pretty significant explosion of blood that will answer your question. We are definitely using these creatures to explore fears of death and why humans have been so enamored with vampire stories for as long as they've been around, but the opening of the book clearly makes a statement - that our vampires think it's their job to erase what modern vamps have become.
UNLEASHED #0 cover by Jamie Tyndall, featuring VAN HELSING (co-star of Unleashed and Vampires: The Eternal)
Q: Who is drawing these books?
A: Superstar artist Nei Ruffino is doing the full art for Unleashed #0. That's all I can say right now. (Really though, with Nei what more do you need?)
Q: Is this a crossover?
A: No. It's an event, but each series is self-contained. While the shadow of Unleashed looms over the tie-in miniseries, each of these books can be enjoyed on their own. None of them will be side stories or ancillary; each story is just that… a story in and of itself.
Q: What do you need to read before this to be sure you're caught up?
A: The Being is revealed in our Godstorm series, I did some early set up in Grimm Universe #1, and there is a short Unleashed prequel story in "THE BEST OF ZENESCOPE," a one-shot that we're putting out in February… but really, nothing. Not a thing. You can come in having read every Grimm Fairy Tales book, or you can come in blind. 100% new reader friendly.
Q: When does Unleashed begin?
A: April. To be sure that your comic shop doesn't sell out, please pre-order your comics in February Previews.
Q: What else will Zenescope be doing during Unleashed?
A: There are a bunch of series that won't tie in at all. We don't want our whole publishing line to be one story. I've got a one-shot (not announced yet) comic in April, and I'm launching two brand new series (non-Unleashed) in May. Details on those next month. The other books, such as what Raven is doing with the Wonderland ongoing and what Mark is doing in Jungle Book: Last of the Species, will not be official tie-ins to Unleashed.
iZombie Volume Three & Writerly Updates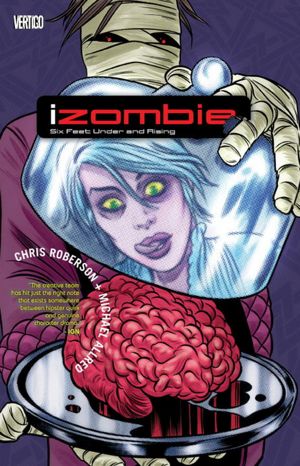 iZombie is the rare comic that makes me abandon my Writer Logic. You know what I mean - it's that annoying voice in the back of your head that puts plot threads together and makes assumptions while you're watching movies; it's the voice that goes "oh, I see what they did there" at key points; it's the un-cut-outable part of you that is painfully aware of the process. It is you, writers.
Well, here's the thing. I just finished the third volume of Chris Roberson and Mike Allred's iZombie, and I'm pissed off. Why? Because I love the damn thing so much and it's going to be a long time before that fourth volume is out, and an even longer time for the fifth volume to hit shelves. Why? Well, illogically, it's that lazy writer! That lazy artist! Bah, they're probably on Facebook or drunk Tweeting movies when they should be churning out weekly - no, daily! - issues of this series I love so much, abandoning their lovers, sleep, and sanity for my enjoyment.
See the above rant? Complete lack of Writer Logic. That's what iZombie does to me. It strips me of all the things I know about the process and replaces me with this ranting, foamy-mouthed creature of pure need.
I think I have to start following this book monthly. And I know just what book I'm going to drop in order to do so. Sorry, superhero comics. iZombie has my heart and my br- er, stopping myself right there. I almost abandoned my Writer Logic again and resorted to one of those cheesy puns that reviewers love doing so much.
On a decidedly Writerly note, I've got some reaaaaally interesting stuff happening behind the scenes. A company I've worked with a lot has expressed interest in hiring me for more of their properties, and they're currently considering one of my creator owned books. Yay!
As for now, I've got two books coming out next month.
- Grimm Fairy Tales: April Fools Edition #3
Every year, Zenescope celebrates the silliest day on the calendar by reprinting some of their old stories with funny dialogue. I scripted this year's issue with Ralph Tedesco, and I even got some of my buddies in on the fun. It includes a pin-up from my Blood Pong co-creator Ian McGinty and a fake ad for 52 new Zenescope books from my Thomasina's Human Zoo co-creator Sarah 'Pickles' Dill.

- Grimm Fairy Tales: Different Seasons Vol. 2
This TPB reprints a bunch of fun stories, including my giant size holiday issue from December 2011.
More announcements coming soon! As for now, I'm off to do some editing on a feature film I shot… wow, a year and a half ago at this point. Time flies.